San Francisco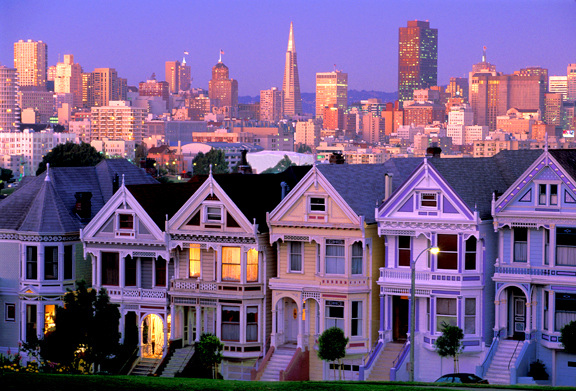 San Francisco California CA
Country Code

USA


State Code

CA


Day Trips

Cruise across the Golden Gate Bridge to visit Muir Woods, a majestic grove of redwood trees in Mill Valley. Afterward, wind your way into Tiburon, where you'll enjoy quaint shopping and a new perspective on San Francisco. Grab an outdoor table at Guaymas restaurant (5 Main St, 415/435-6300) and soak up the view of Angel Island and the Bay. Those without a car can experience this up close and personal by taking a ferry from Fisherman's Wharf. Angel Island is also accessible by ferry, and offers trails for hiking and biking, plus guided tours.
Napa Valley wineries and the spas of Calistoga are a short drive northeast of the city. To maximize your bridge views, exit the city via the Golden Gate Bridge, and return through the East Bay. On the way back, you'll cross the erector-set-inspired Carquinez Bridge (look for its identical twin standing nearby), and you'll be on the upper deck of the Bay Bridge when you come back into San Francisco. Get your camera ready, because a picture here (including Coit Tower, the Trans-America Building, the Port of San Francisco, and Twin Peaks) is truly worth a thousand words.

Local Food

Locals fill up on hearty burritos from the taquerias in the Mission, and a visit to the City by the Bay would not be complete without some dim sum. Award-winning Yank Sing, inside the Rincon Center, is one of our faves.


Gay Info

The San Francisco LGBT Community Center 415/865-5555,

www.sfcenter.org.

1800 Market St (at Octavia).

Aids Group

Gay Aa

AA Gay/Lesbian 415/674-1821, www.aasf.org.


Gay Pride

Annual Events

June - San Francisco Int'l Lesbian/Gay Film Festival 415/703-8650, www.frameline.org.
July - Up Your Alley Fair 415/861-3247, web: folsomstreetevents.org. Local SM/leather street fair held in Dore Alley, South-of-Market.
September - Folsom Street Fair 415/861-3247, web: folsomstreetevents.org. Huge SM/leather street fair, topping a week of kinky events.
October - Castro Street Fair 415/841-1824, www.castrostreetfair.org. Arts and community groups street fair.

Airport

San Francisco International. To get to the Castro District take 101 North. Follow signs to Golden Gate Bridge. Take Mission/Van Ness exit. Continue up Duboce St (13th St) for 3 blocks to Market St. Take a left, go 5 blocks, and begin to pray to "Asphalta," the goddess of parking. (Or, better yet, hitch a ride on BART-the public transit system that connects SF and the East Bay and leaves directly from SFO-or one of the reasonably priced shuttles.)


Taxi

Yellow Cab 415/333-3333, www.yellowcabsf.com.
Luxor Cab 415/282-4141, www.luxorcab.com.

Super Shuttle

Quake City Shuttle 415/255-4899, www.quakecityshuttle.com.


Public Transport

511, web: 511.org. Covers all Bay Area transit (also traffic).
Muni 415/673-6864, www.sfmuni.org.
Bay Area Rapid Transit (BART) 415/989-2278, subway, www.bart.gov.

Tourist Attraction

Visitors Bureau

Weather

A beautiful summer comes at the end of September and lasts through October. Much of the city is cold and fogged-in June through September, though the Castro and Mission are usually sunny. The cold in winter is damp, so bring lots of layers. When there isn't a drought, it also rains in the winter months of November through February.


Best Views

After a great Italian meal in North Beach, go to the top floor of the North Beach parking garage on Vallejo near Stockton, next to the police station. If you're in the Castro or the Mission, head for Dolores Park, at Dolores and 20th St. Other good views: Golden Gate Bridge, Kirby Cove (a park area to the left, just past the Golden Gate Bridge in Marin), Coit Tower, Twin Peaks, Bernal Hill.


Where The Girls Are

Younger, radical dykes call the Mission or the lower Haight home, while upwardly mobile couples stake out Bernal Heights and Noe Valley. Hip, moneyed dykes live in the Castro. The East Bay is home to lots of lesbian feminists, older lesbians, and lesbian moms (see East Bay listings).